---
---
REMOVE PET HAIR INSTANTLY WITH THIS AMAZING "HAIR REMOVER ROLLER"
We all love our pets but cleaning their hair is just frustrating for every pet owner!
Do you LOVE your pets but deal with the same problem as all pet owners and have hair 
Well, we got just the right solution, this "Pet Hair Remover Roller is EXACTLY what you need!
A QUICK, SIMPLE and EASY solution to remove pet hair from your favourite clothes and furniture.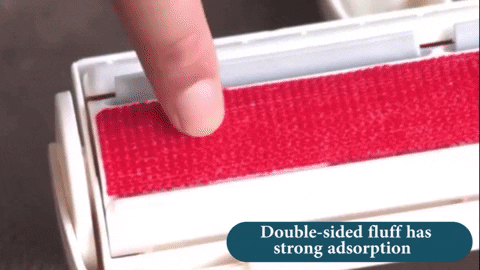 Our furry friends are like members of the family. We love them dearly, but If you have a pet, you know how frustrating pet hair can be. The American College of Allergy, Asthma & Immunology explains that too much pet dander and hair in the air can aggravate allergies; especially in the areas of the house where pets are allowed. Now that it's shedding season, Hair Remover Roller is the best solution to end this problem forever.
This is A Pet Hair Roller Remover That You Never Had Before! 🐶🐱
Hair Remover Roller will efficiently clean up all kinds of pet hair from couches, beds, comforters, blankets and more. It's convenient and simple. Plus, it's reusable! No need to worry about removing sticky papers or running out of it. Start using Hair Remover Roller and throw away your lint rollers.
⚠️ STOP wasting money on lint rollers!
⚠️ STOP lifting your heavy and noisy vacuum cleaner!
⚠️ STOP using products that do not work!
How Does Hair Remover Roller Work?
Simply roll it back and forth in short strokes to trap the pet hair into the chamber.
Press the handle catch to open the lid.
Remove all pet hair from the catchment chamber.
Our Hair Remover Roller is REUSABLE with the self-cleaning design. Just empty the waste compartment, dispose of the pet hair in the trash and the product is ready to use again. No longer waste money on sticky tape, adhesive tape, refills or batteries.
Exclusive electrostatic adsorption design, catch the pet hair in a second! 
This pet hair remover can easily clean cat/dog hair from your bed, furniture, couch, sofa, chair, car, carpet, and so on. Note: Not suitable for smooth, hard surfaces like wood, tile, Formica and concrete; wet surfaces; clothing and thin carpets.
The Best Product on the Market for a Fur-Free Home!
🐾 Best Hair Remover Roller (Tested and Compared to other brands.) 🥇
🐾 Reusable Design: Don't need to keep buying sticky tape or adhesive tape. Don't need to keep peeling off or refilling. Hair Remover Roller is reusable with the self-cleaning design. Just empty the waste compartment and the product is ready for use again.
🐾 Durable Material: durable nylon and ABS plastic ensure the durability of the pet hair removal roller. If you have cats, dogs, or any furry pets, this hair remover roller is what you are looking for! Whenever & wherever you use it, your  Hair Remover Roller will work as great as the day you bought it.
🐾 Convenience: You don't need to tear the paper anymore. It is durable and never breaks in use.
🐾 Easy to use.
🐾 Save Money: No Needs for Batteries or Power Source. Simply roll this pet hair lint roller back and forth on the desired surface to capture all pet hair and lint into the dust receptacle.
🐾 Easy to clean: This pet fur remover could use daily. Note: you should not wash the brush surface directly with water. Instead, use a soft towel that is soaked with water or synthetic detergent to clean the brush surface. The same applies to clean the dustbin. Then you'll find that your pet hair remover is as clean as new.
👉🏼 ORDER YOURS NOW and Get Rid of Pet Hair Forever! 💚
Rapid delivery. All OK. Well packed. Recommend
Excellent, quality product. It arrived straight and well packed.
Good on furniture and rug, but the door part very loose and open many times during when i use
Works pretty well on flat surfaces!