---
---
18-in-1 SNOWFLAKE MULTI-TOOL
Looking for a GIFT for your loved ones?
This new amazing 8-in-1 Snowflake Multi-Tool is a PERFECT gift item.
PLUS it's useful for many tasks.
Stainless Steel Multitool Standard. Our 18-in-1 Stainless Multi-tool can be used under several conditions. It is not only a simple tool with a special snowflake-shaped design, you can explore its special usages by your imagination, we believe it can bring you many surprises.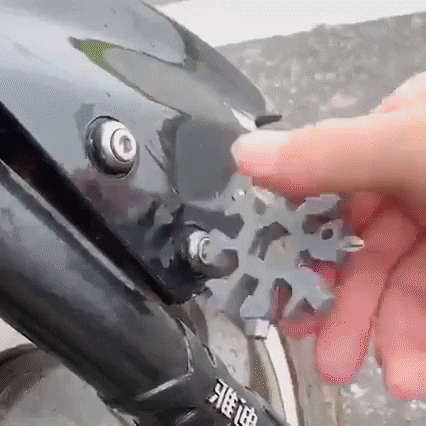 You can use it to open the beer bottle, turn the screw, fix the bicycle and all the appliances when you need, open the carton box and so on. Our Multi-tool which weighs only 2.3 ounces and just over 2" long is so easy to be taken along with and can be as a gift or hanging drop.
Main Features:
MULTI-TOOL - One Multi Tool contains incredible 18 tools.

COMPATIBLE SIZE - Only 2.3 ounces and just over 2 " diameter, unique snowflake-shaped design, easy to carry.

APPLICATION - It can tighten the screws, open the cap, repair snowboard, bike, toys and much more.

PERFECT GIFT ITEM - It can also be hung in the keyring, backpack or decorated in the Christmas tree.
**LIMITED STOCK AVAILABLE DUE TO HIGH DEMAND ON SOCIAL MEDIA**
GET YOURS BY CLICKING

BUY IT NOW

ABOVE
Specification:
Material - stainless steel

Size - 6.4 * 6.4 * 0.6cm
100% SATISFACTION GUARANTEE ✔️
FAST SHIPPING ✔️
With more than 
 15,000
 + satisfied customers
, we have already the Turboscrubber 
stand 100% behind our product, we. That is why we offer a "money-back guarantee".
Shop Modern 18-in-1 Stainless Steel Snowflakes Multi-Tool
Shop Modern 18-in-1 Stainless Steel Snowflakes Multi-Tool
Shop Modern 18-in-1 Stainless Steel Snowflakes Multi-Tool
Shop Modern 18-in-1 Stainless Steel Snowflakes Multi-Tool